Head Office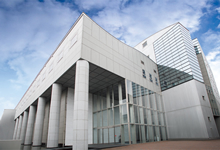 2-12-2 Yayakidai Suma Ward, Kobe City, Hyogo Prefecture 654-0161
TEL: 078-793-8400 (Representative)
FAX: 078-792-6900 (Representative)
The Kobe Head Office is an integrated business operation location that includes the management department, the head office sales department with jurisdiction over the Kansai area, and the Kobe Logistics Center, which is a strategic logistics base.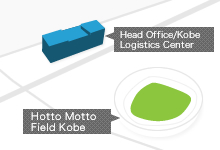 On January 4, 1998, we opened the "Kobe Logistics Center" with a site area of 5000 m2 and a floor area of 10,000 m2. We have introduced state-of-the-art material handling equipments such as automatic warehouses and moving racks, which have made us possible to operate at the highest speed in the industry.
In addition, sales activities, with the industry's most advanced IT structure as a backbone, link all processes from the manufacturer to retail store. These functions have received extensive trust from national brand manufacturers and domestic and overseas retailers.
Asahi Golf Equipment is a company that continues to evolve even after 50 years since its foundation.
We aim to function as an open logistics center that can help each and every one's golf life, not just a closed logistics center to form a business.
Facility overview

site area

5,000m2

floor space

10,196m2

Vertical direction flow line

2.5 ton cargo elevator

1F - 5F: 1 machine

Pallet/carriage lifter

1F - 4F: 1 machine and 2F - 4F × 1 machine (total 2 machines)

Shipment capacity

2,000 shipments/day

Amount of products

Approximately 50,000 products
Access by train
Sogo Undo Koen Station on the Kobe Municipal Subway Seishin/Yamate Line: Walk 5 minutes to the west/north west
Access by car
Please use nearby parking lot.